Key West Seafood Favorites
---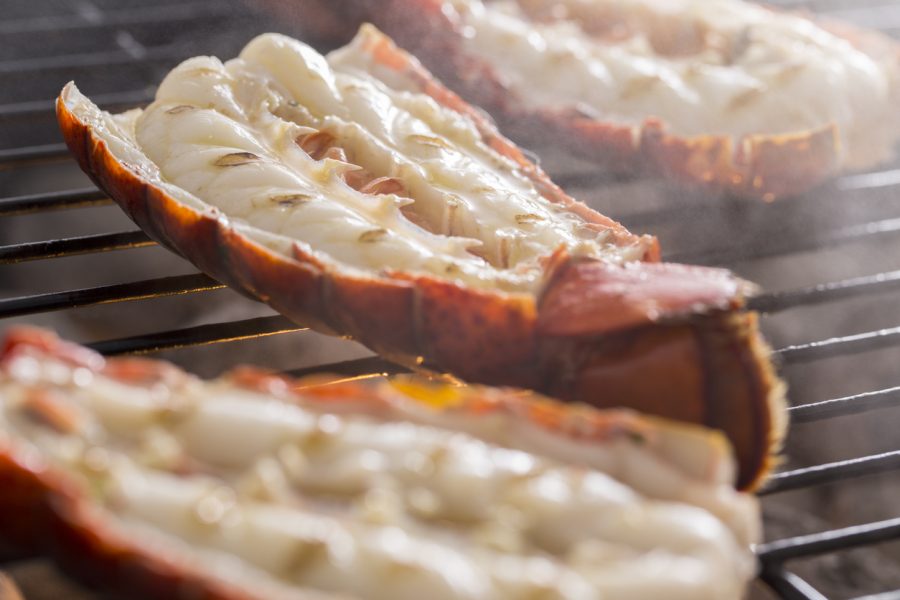 The Taste of Old Florida
A road trip down the Overseas Highway to Key West reveals hints of what locals often call Old Florida.
This refers to Florida as it was in the period that began in the late 19th century when the first tourists began arriving. They flocked down the Keys on the Overseas Railroad when it opened in 1912, and from the 1920s into the late 70s, millions of visitors toured the state by car and enjoyed Old Florida's natural beauty and many distinctive roadside attractions.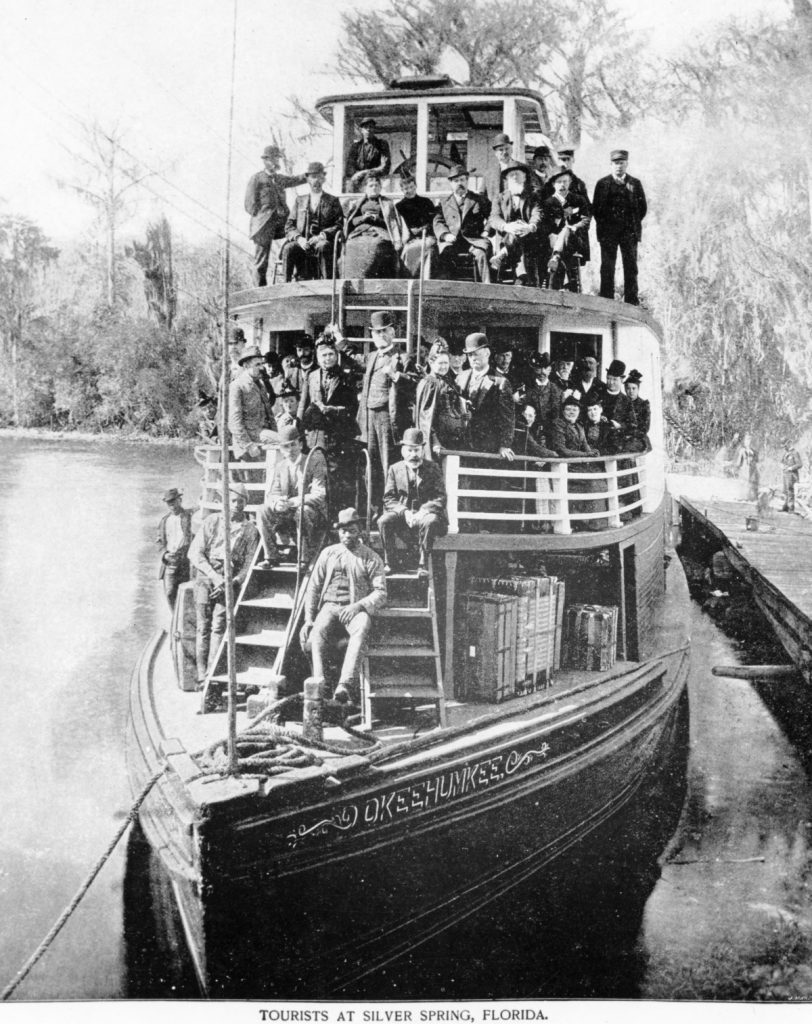 The ambiance of Old Florida was Deep South mingled with the tropics, and the pace of life was slow and relaxed to fit the climate. The beaches were wide-open and mostly empty; the inland country roads ran past farmlands and pastures, orchards, fruit stands, and family-owned shops and cafes, all scattered in between patches of native bushland. Nature was a strong presence almost anywhere away from the urban centers. The Everglades were bigger and wilder, birds, animals, and reptiles of every type abounded, and thousands of sea turtles came ashore every summer along the central Atlantic coast beaches where condos and houses now crowd the water's edge.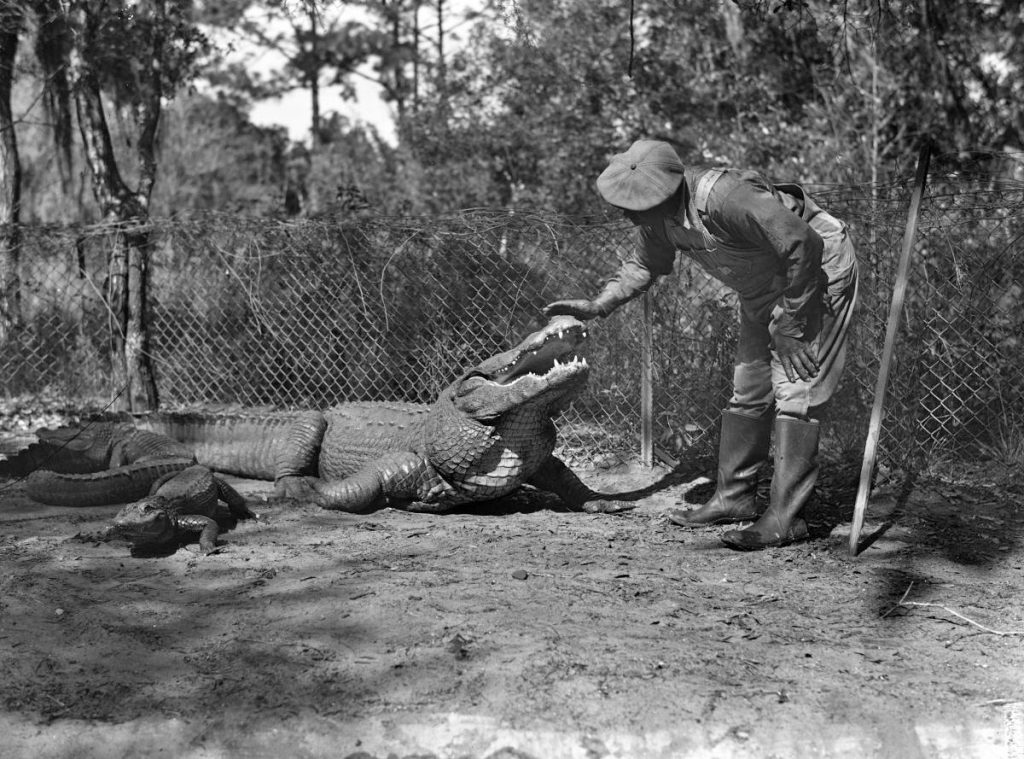 Even now, traveling the Keys yields plenty of pristine vistas and near-empty islets to remind one of the days when isolated fishing camps, sun-bleached boats, and salty characters set the tone. In the heart of Old Town Key West, one of the nation's largest collection of Historic Buildings brings to mind times when the island was a tiny outpost in the American tropics and best known for sailors, smugglers, pirates, and adventurers. Key West attracted the likes of Ernest Hemingway and many other sportsmen and celebrities, artists and eccentrics of the early 20th century primarily because of its frontier appeal, rough-edged tolerance, rustic saloons, dark, sweet Caribbean rum, hand-rolled Cuban cigars, and great gamefishing.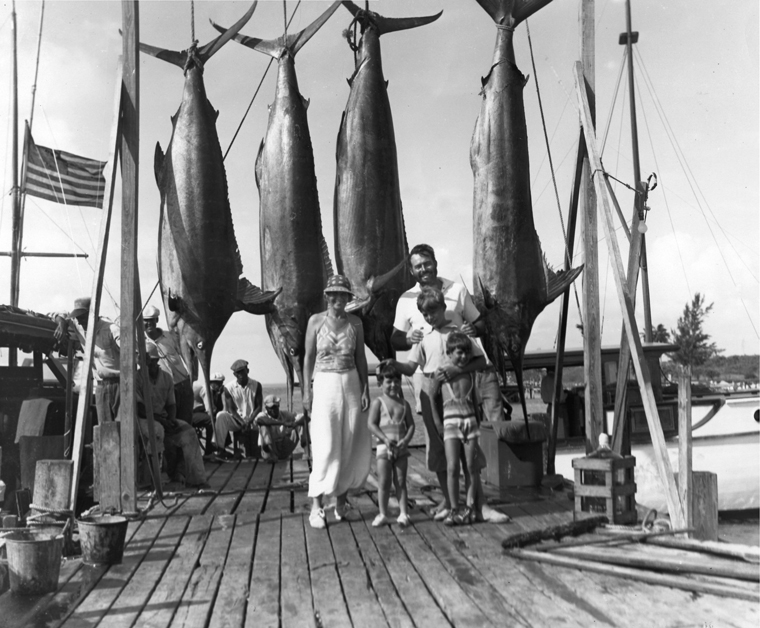 Hunting Natural Treasure in Florida Keys Waters
The excellent Key West seafood was another local attraction. The waters of the Keys were incredibly bountiful in those days, and the variety of fish and shellfish found locally and offshore in the Gulf and Atlantic was hard to match in any of the country's other ports of call. Conch and lobster were Keys mainstays, and now-scarce fish like Atlantic Bluefin Tuna, Red Snapper, and Long-tail Snapper were still plentiful. And of course the seafood was as fresh as can be. Fishing as a small commercial and subsistence effort was still a primary occupation, with many small boats headed to sea each day. There was no refrigeration, so the catch was brought to the docks, sold, and eaten within hours.
This was the era of the classic fish shack—a largely open-air affair located on the roadside, beach, or dock—where the catch of the day was likely to be cleaned and cooked right before your eyes. The fresh catch often changed daily and according to location, with smoked or fried mullet and triggerfish, hot, crispy conch fritters, big grouper filets sandwiched between slabs of homemade bread, pink shrimp fried or boiled with Cajun spices, and wood-fire grilled Wahoo and MahiMahi showing up as menu staples.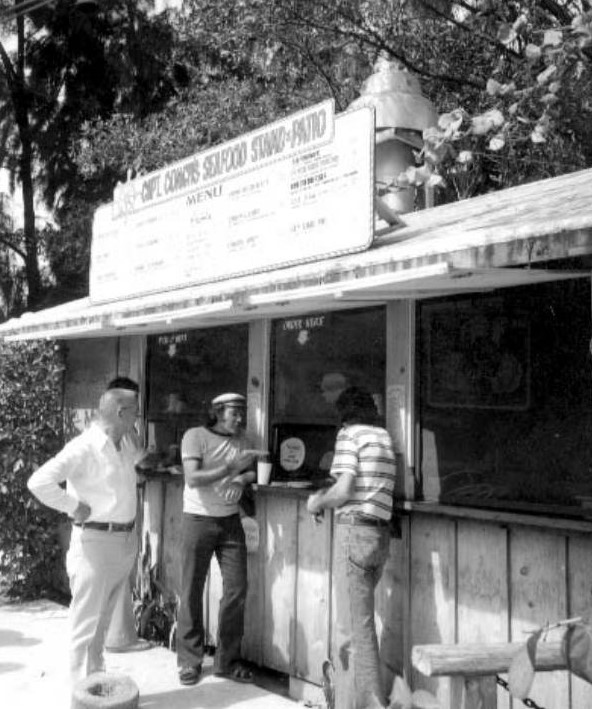 Now, Florida's ramshackle roadside fish shacks have largely disappeared under the onslaught of modern development and regulatory oversight. But in the Keys, a good bit of the essential spirit and maritime culture of Old Florida remains intact, and delicious seafood is still highly prized. This 125-mile-long island chain stretches through one of the richest marine environments in the continental US, and much of it is protected by nature reserves like the Florida Keys National Marine Sanctuary. Even outside the sanctuary waters, fisheries are carefully managed to ensure that professional watermen, sport fishermen, and seafood lovers alike can enjoy nature's bounty on a continuing basis.
Today, commercial fishing in the Florida Keys supports over 1,600 families, and the Stock Island docks alone handle a yearly catch of 7 million pounds with a value of $24 million. The Gulf and the Atlantic, the Keys Backcountry, and the passes and coves of the inshore waters still yield treasure to local fisher-folk, many of whom possess multi-generational knowledge about fishing in these waters. Through their work, the Keys still maintain their reputation as a seafood dining destination, and most Key West visitors want to taste at least some of our most popular delicacies.
Tasty treats from the sea are still readily available if a diner knows where to look. Get familiar with a few of the favorites described below, then you can have fun searching out the taste of the Old Florida Keys at a few remaining fish shacks that have updated with the times, or tucked away in taverns near the docks and marinas, and in small cafés scattered along the Keys. In Key West, look for the local fresh catch on raw bars, and even in the select few bigger main-street restaurants like Martin's that are run by savvy chefs who tap into the best that the changing maritime seasons along the Keys can provide.
Conch Fritters
Key West natives are often referred to as Conchs—a moniker taken from the Queen Conch, a large sea snail indigenous to the warm waters of the Caribbean Basin and the Florida Keys. These herbivorous gastropods, known for the beauty of their shells, can grow up to 12 inches long and live for 30 years. They spend their lives grazing placidly across the sea grass beds in shallow inshore waters. The local nickname for Key Westers is said to originate from the 18th century when British loyalists fled to the Bahamas from Florida and other southern colonies during the American revolution.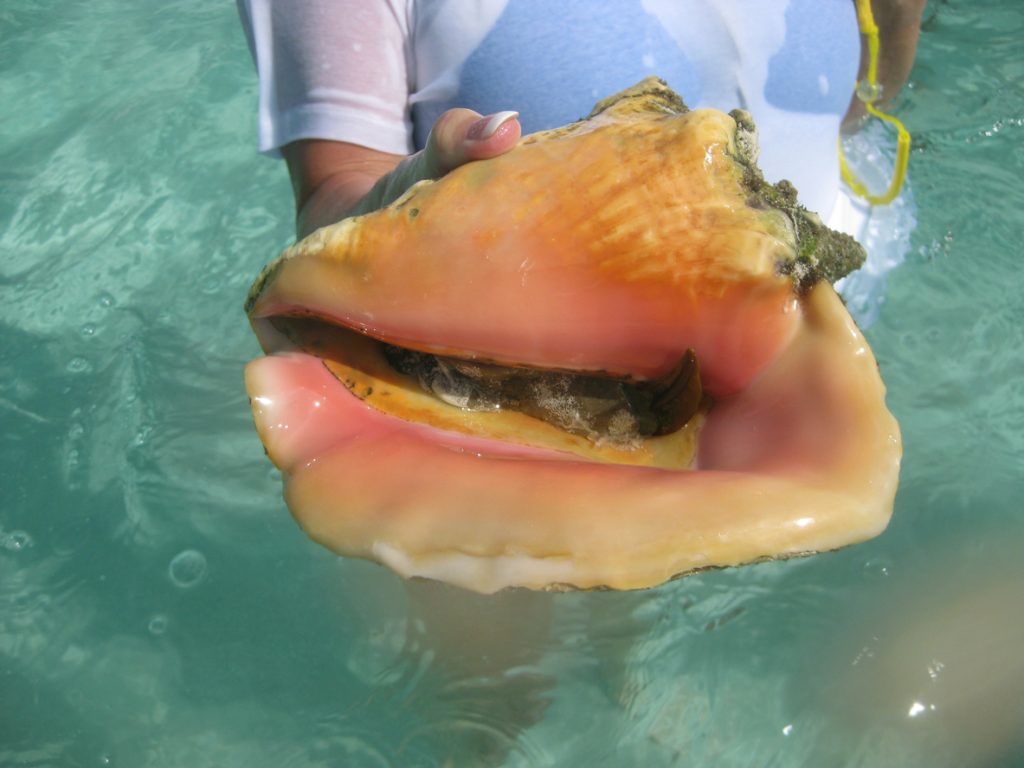 These immigrants tended to look down on the Europeans who lived on the Caribbean islands that were at the time part of the British Empire. The displaced mainlanders referred to the white Bahamians as Conchs, most likely because of the prominent role the plentiful shellfish played in the islander's diets. A more colorful backstory for the name is that the independent-minded Bahamians told the British authorities they would sooner eat conch than pay the taxes levied by the Crown.
Caribbean Connections to the Keys
When Bahamians of European descent began sailing to the Keys in the early 19th century to cut timber, salvage wrecks, and catch turtles, the nickname traveled with them and came to be used for black and mixed-race Bahamians as well. Up to the early 20th century, most Key West and Florida Keys residents were of Bahamian heritage, and Conch became a term with ethnic connotations that distinguished the Bahamians from the mainlanders who were increasingly settling in the Keys. The nickname is now used by Key Westers with a sense of pride and community identification.
Ubiquitous as a food item throughout the Bahamas and West Indies, conch meat established a firm place on Key West tables during this early period of immigration and exchange of cultures between the Keys and the Bahamas. Conch is very firm and white, with a mild, slightly sweet flavor; essentially pure muscle, the meat must be pounded, marinated, or otherwise tenderized to make it chewable. It is the foundation of traditional Bahamian dishes including conch chowder and conch salad, and is probably most well-recognized in the form of conch fritters.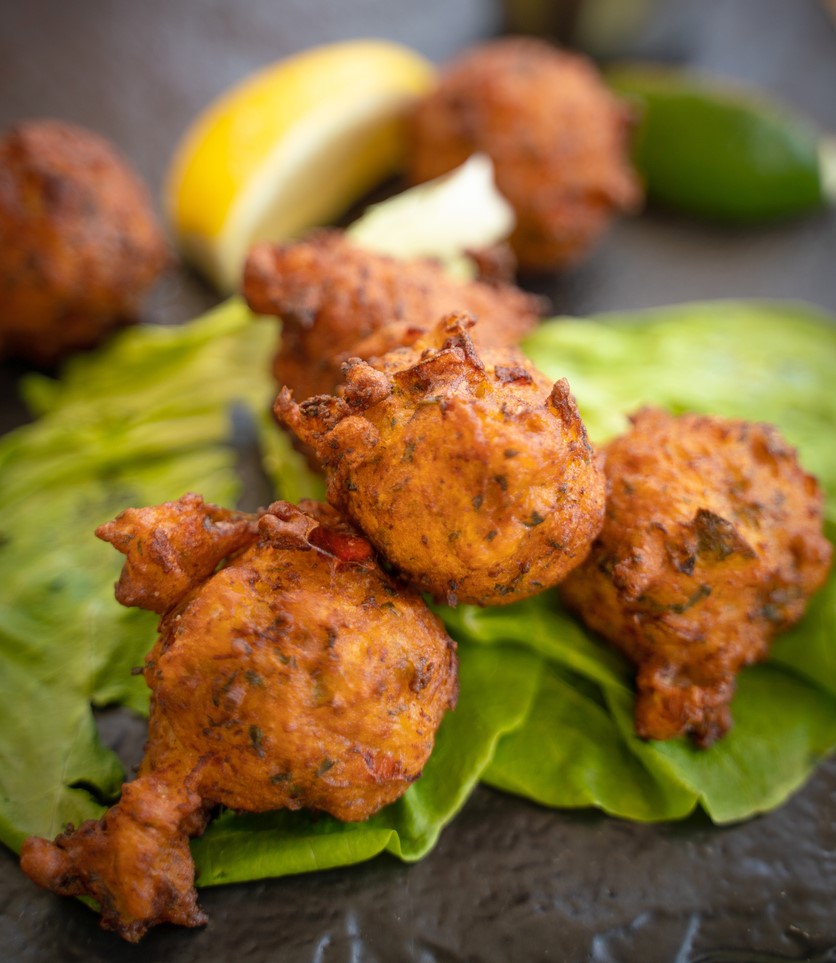 Deep-Fried Delight
Conch fritters are savory golden deep-fried balls of batter suffused with bits of conch meat, onion, garlic, hot pepper, and other ingredients and seasonings according to any of the thousands of "secret" recipes. A good conch fritter is crispy outside, fluffy inside, and has a spice hit that accentuates rather than hides the tasty conch. With a squirt of lime juice and/or a dipping sauce and an ice-cold beer, this is Keys snacking as good as it gets. It is not difficult to find the fritters in Key West or anywhere in the Caribbean, but finding the truly good ones takes some foodie detective skill or luck. However, the search is a lot of fun.
One cautionary note is in order: slow moving and easy to catch, Queen Conchs been heavily overharvested throughout their range, and are illegal to take from U.S. waters. Fresh conch meat cannot be sold in the United States, and the frozen conch that is imported comes from various Caribbean islands with questionable resource management practices. Despite the presence of conch on menus throughout the Keys, imports to the U.S. from many of these places are also supposedly illegal. In fact, the Queen Conch is becoming scarce and endangered in the Bahamas and throughout its entire range. Consider limiting consumption, look for ethically-sourced conch if possible, and keep sustainability in mind if you would like to enjoy this traditional Florida Keys treat.
Key West Pink Shrimp
The Key West pink shrimp is one of the island's most renowned seafood specialties. It is a staple on raw bars and restaurant menus in the Keys and beyond along the Southern Atlantic Coast, and can often be found at well-stocked seafood counters and frozen food sections in supermarkets across the U.S. The pink shrimp species, scientific name Farfantepenaeus duorarum, ranges from the southern Chesapeake Bay along the eastern seaboard around Florida and the Keys, into the Gulf of Mexico, and down to the tip of the Yucatan Peninsula. They are most abundant off southwestern Florida and the southeastern Gulf of Campeche along the Yucatan.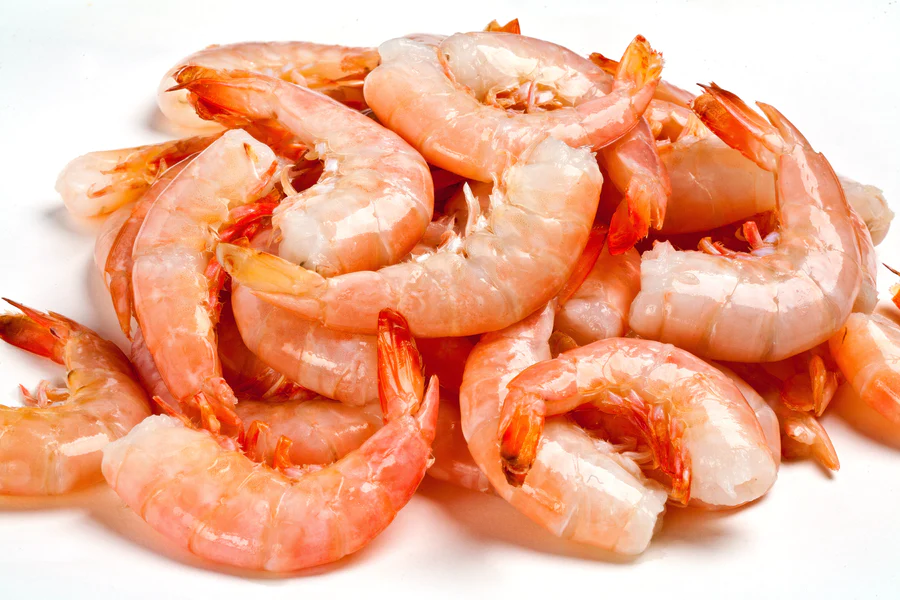 For management purposes, the species is classified into two stocks: the Gulf of Mexico and South Atlantic stocks. Key West pinks are sourced from the Gulf fishery, and are known to be especially sweet and succulent because they live on the clean coral sand off Key West and Florida's west coast. Feel free to enjoy all the fresh pinks you like—wild-caught pink shrimp is classified by the NOAA Fisheries Department as a smart seafood choice because the shrimp stocks are sustainably managed and responsibly harvested under U.S. regulations.
Pink shrimp have a short lifespan, usually less than 2 years, and grow quickly, reaching up to 8 inches in length depending on a variety of factors including water temperature and salinity. In the warm Florida waters, pink shrimp spawn multiple times annually, with spawning activity peaking from April through July when the water is warmest. Because of their rapid reproduction, pink shrimp are commonly referred to as an annual crop, and careful management keeps the species abundant and safe from overfishing.
The Pink Gold Rush
In 1949, fishermen discovered pink shrimp off the Dry Tortugas in the open waters west of Key West. Shrimpers flocked to Key West, and nearly 500 shrimp trawlers crowded the historic seaport in the Key West Bight during an era in the 1950s and 1960s that became known as the pink gold rush. During its peak, the shrimping industry brought in more than $5 million dollars annually. In the first six months of 1965, Monroe County officials recorded a shrimp catch of 7.5 million pounds, worth $4 million dollars, brought in to country harbors.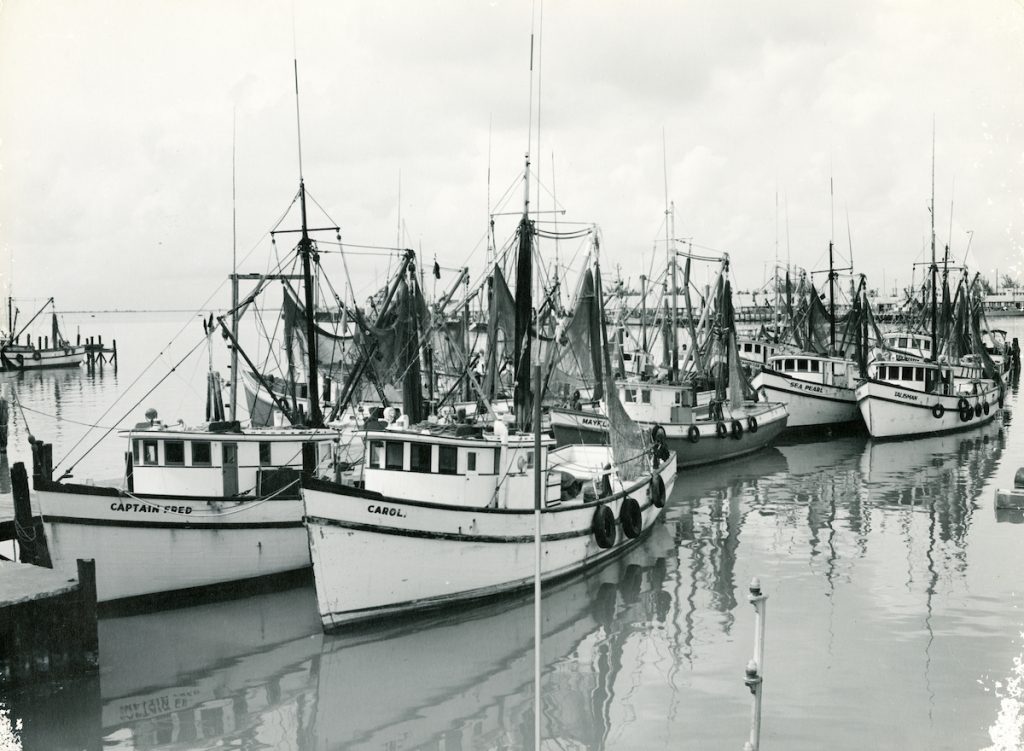 Although the shrimp remain plentiful, and shrimping continues out of harbors along the eastern and northern Gulf Coasts, a variety of economic forces pushed the industry out of Key West. By the early 1990s, the last of the shrimp boats had sailed out of Key West Bight. For decades now, sportfishing boats along with a wide selection of catamarans, sailboats, and yachts offering sunset and dinner cruises, snorkeling trips, and other tours have occupied the space once home to a rough-and-ready community of hard-working shrimpers and their battered but sturdy working vessels.
Good Any Way You Eat Them
If you would like to know more about the local provenance and colorful history of your delicious Key West pink shrimp cocktail, head to the Key West Museum of Art and History at the Custom House, 281 Front Street. This is where the Key West Art & Historical Society maintains a significant collection of photos, artifacts and information about the island's shrimping industry. For the present, it is enough to know that sweet Key West pinks come from nearby Gulf Waters to the north and west of the island and, in season, still arrive iced down, fresh and unfrozen.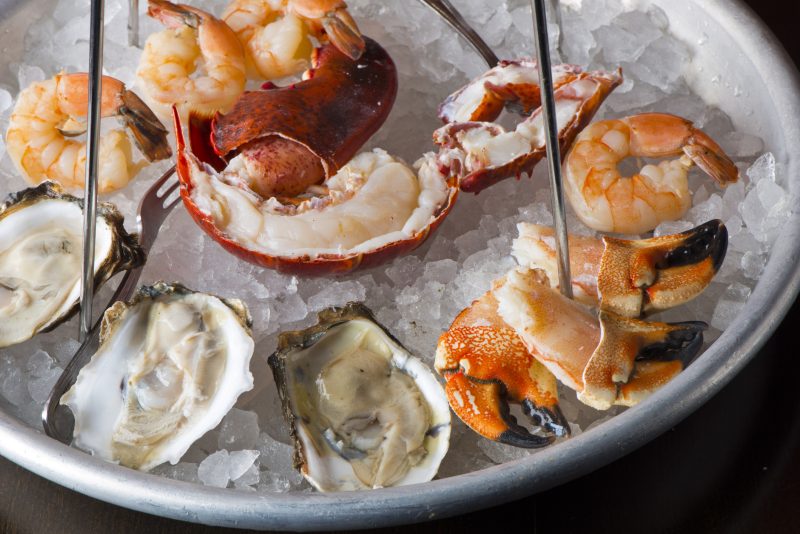 Pink shrimp are delicious deep fried, broiled with butter and garlic as scampi, boiled with a bit of seasoning, alongside a steak, or over pasta in a creamy Alfredo sauce. But you absolutely must try them peeled and eaten fresh and icy-cold off a classic Key West raw bar, with a bit of lemon juice and cocktail sauce on the side and a cold beer or crisp vodka tonic in hand. You will soon discover why so many people are willing to pay premium prices to receive Key West pink shrimp via mail order in locales far beyond Florida state lines.
Grouper
Grouper are legendary among sportfishermen and a favorite of chefs and seafood lovers as well. An estimated 160 different members of the Grouper species (Epinephelidae) inhabit tropical and temperate waters around the world, and Grouper is an important food species found around all tropical islands. Groupers vary greatly in appearance, but most share three common traits: they have a wide, muscular body with a large head and mouth; they easily break anything but heavy, specialized tackle when hooked; and they have delicious, mild, firm white meat that lends itself well to many styles of preparation.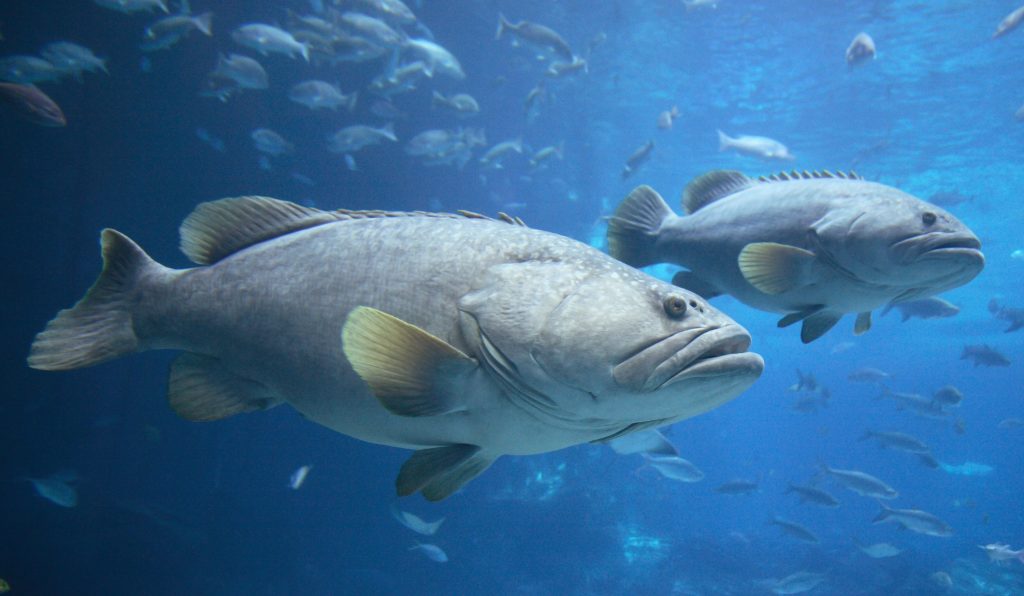 In the early days of Florida Keys fishing, Grouper were very plentiful. With a constant presence on the reefs and around wrecks and other structure, along with voracious feeding habits, they were one of the inshore gamefish species that made Keys sportfishing famous. The huge Goliath Grouper in particular, with astonishing size that makes a 5-foot-long fish weighing 300 pounds or more just a typical day's catch, appeared frequently in early Florida photos and postcards. Although fish of this size do not make the best eating unless smoked, the species was pushed to the brink of extinction in local waters by trophy hunters. Protected since 1990, the Goliath Grouper is once again flourishing as king of the reefs and is a very popular subject for catch-and-release photo opportunities.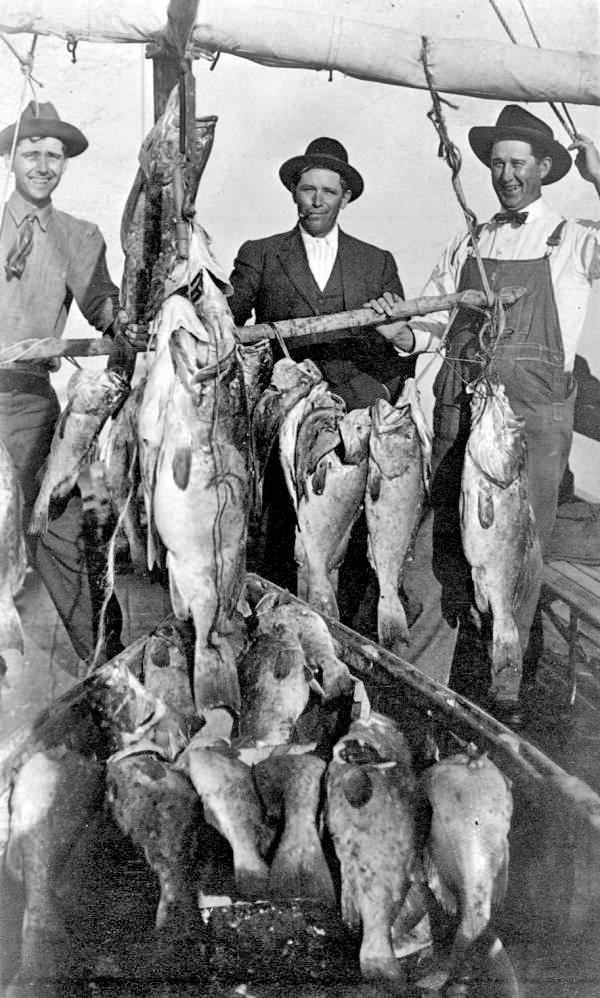 All other species of Grouper in Florida waters are also carefully managed now. Some species, for example the beautifully-marked Nassau Grouper, once one of the most common Groupers in U.S. waters, were overfished to near extinction and are kept completely off limits to all fishermen. Fortunately, other great eating species, including U.S. wild-caught Black Grouper and Gag Grouper, are thriving in sustainable populations and are on the NOAA Fisheries smart seafood choice list.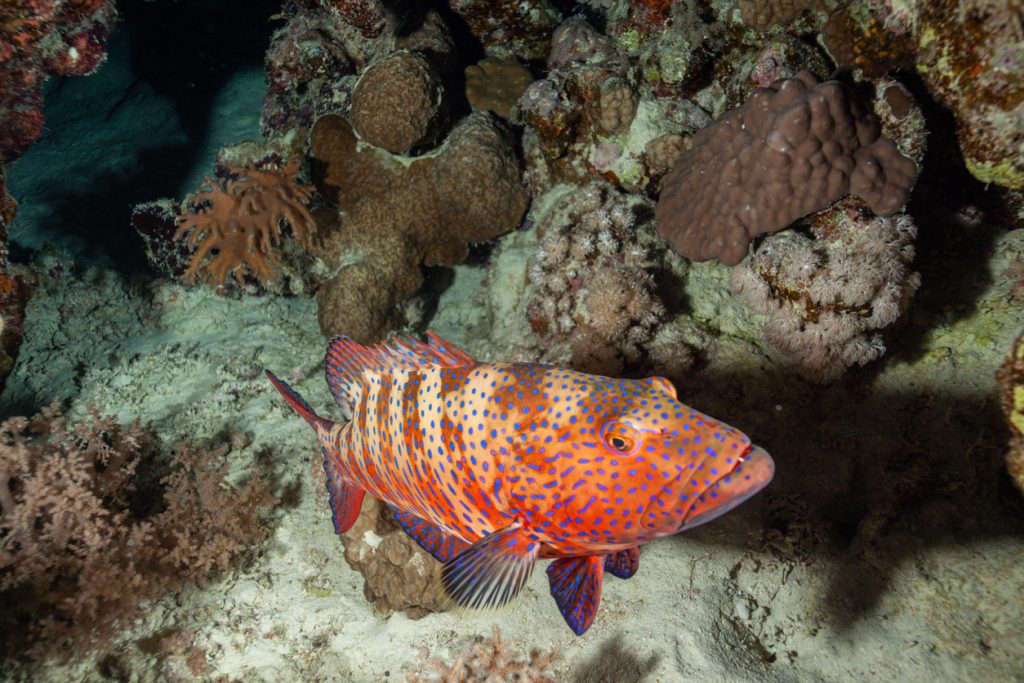 The Black Grouper has all the positive attributes of Groupers in general, plus one additional advantage—it is commonly encountered on Key West seafood menus. In addition to being large, strong fighters when hooked, and a very popular local sportfish, Blacks are a valuable regional commercial fish. Black Grouper can live up to 30 years and grow quite large—5 feet long and 180 pounds, but most caught are in the 2-foot range. This size produces the best filets, sweet and tender with just the right heft to the meat.
The Perfect Table Fish
The Grouper's thick, muscular body yields large, bone-free filets. Another characteristic that makes this fish so popular among chefs and discerning seafood aficionados is versatility in the kitchen. Grouper can be cooked in many different ways, and it pairs well with a variety of seasonings from bold spices to subtle herbs. The meat is known for its ability to absorb flavors, making it a great choice for use in marinades and with sauces. If care is taken to cook it thoroughly while keeping it moist and flavorful, Grouper is also one of the easiest fish for the home cook to handle.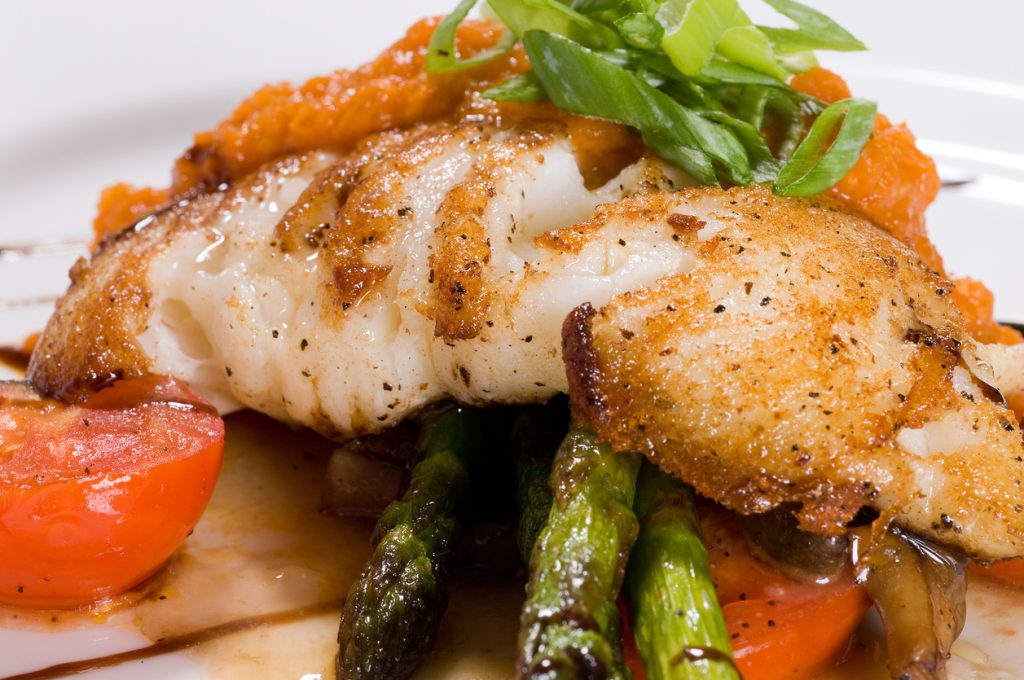 Marinating a Grouper filet in a mixture of lemon juice, olive oil, and herbs, then grilling or broiling, produces a taste treat that will hook the most finicky seafood eaters. The olive oil helps to keep the robust meat moist and tender, while the lemon provides a bright and acidic contrast to the sweet, meaty flavor of the fish.
Frying is another popular method of cooking Grouper. Coated in a mixture of flour, cornmeal, and spices, then deep- or pan-fried until golden brown, the big, firm filets produce the crisp, generous portions needed for a nice fish and chips plate. This style of cooking also makes the perfect ingredient for the classic fried Grouper sandwich, a fish shack favorite in the Florida Keys decades before insipid fast-food filet of mystery fish sandwiches appeared on the scene.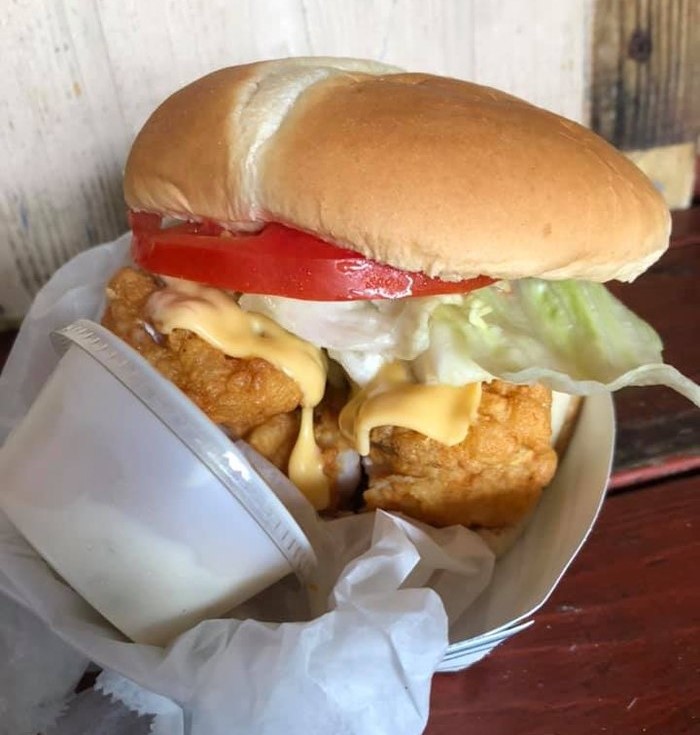 A Healthy and Delicious Seafood Choice
Grouper is a great choice for healthy eating. The meat is a good source of protein and contains many essential vitamins and minerals including B12, iron, and magnesium. It is low in calories and harmful fat, but is rich in good omega-3 fatty acids. Since Grouper works so well with simple, fat-free cooking methods like broiling, grilling, or baking, and is also excellent when sautéed with a dash of high-quality olive oil, it is a wise seafood selection for health-conscious diners who still want to revel in the rich yet delicate taste of one of the best-eating of all salt water fish. If you love fish, you will want to try some Key West Grouper, and you can hook into an excellent Black Grouper meuniere at Martin's Steak & Lobster in Key West.
Florida Stone Crab
The Florida Stone Crab (Menippe mercenaria) is the rather unprepossessing source of one of Florida's most famous seafood treats—fresh Stone Crab claws. This small crab is found on sandy or muddy bottoms, seagrass beds, rocky outcrops and oyster reefs, and around dock pilings and jetties from the nearshore shallows out to depths of 200 feet. The crab's range extends along the western Atlantic seaboard and into the Gulf of Mexico down to Belize and out to the Bahamas, Cuba, and Jamaica. However, crabs found on U.S. dinner tables most commonly come from Gulf waters along the western edge of the Florida peninsula.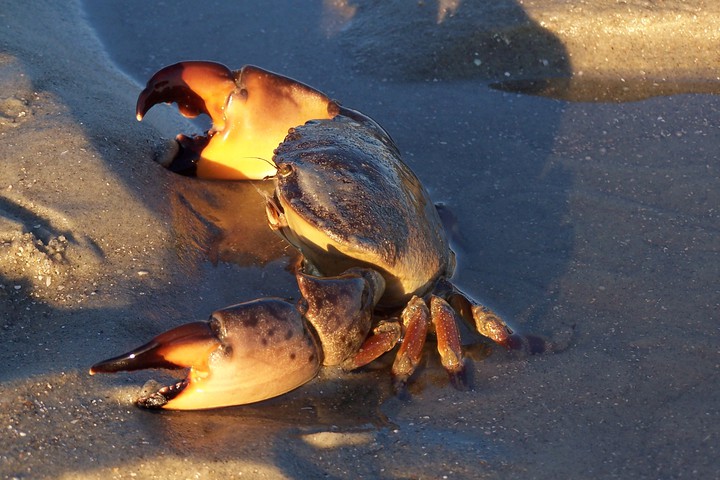 Mottled brownish-red and rarely more than 6 inches across the carapace, the Stone Crab has exaggeratedly large, hard claws with shiny black tips. The crab uses these strong, grasping claws for hunting and defense, and the claws yield sweet, succulent meat when steamed or boiled then cracked open. Customarily, the Stone Crab's body is not eaten because of its small size, and fishery regulations now stipulate that only claws may be harvested.
This unique style of live harvest entails breaking off the crab's larger arm and claw, assuming the claw is a legally harvestable 2 7/8 inches from the last arm joint to inside claw tip. This must be carefully done to leave the sealing diaphragm between the crab's body and the arm intact. The crab is then returned to the water alive where the lost limb can be regenerated in about 18 months. This harvest technique is not as shocking as it sounds, because a Stone Crab can drop a claw intentionally when it is trying to escape a predator or if the claw is damaged.
A Valuable Delicacy from the Deep
The Stone Crab is a common coastal Florida sea creature that was once thought to be inedible by most people. That changed in 1921 when pioneering Miami Beach seafood restaurateur Joseph Weiss boiled up a few crabs brought to him by a Harvard ichthyologist who was in Florida researching local marine life. The claw meat was delicious, and the crabs were abundant in Biscayne Bay between Miami Beach and the Florida mainland.
Stone Crab soon acquired a reputation as a delicacy, and members of Miami high society, wealthy tourists, and many celebrities began arriving in numbers to dine at Joe's Stone Crab restaurant. Today, a dinner portion of 3 jumbo Stone Crab claws can run $100 dollars or more and Joe's has earned international fame. In fact, the restaurant is the largest buyer of Florida Stone Crab, and exerts a powerful influence on the fishery and market as a whole.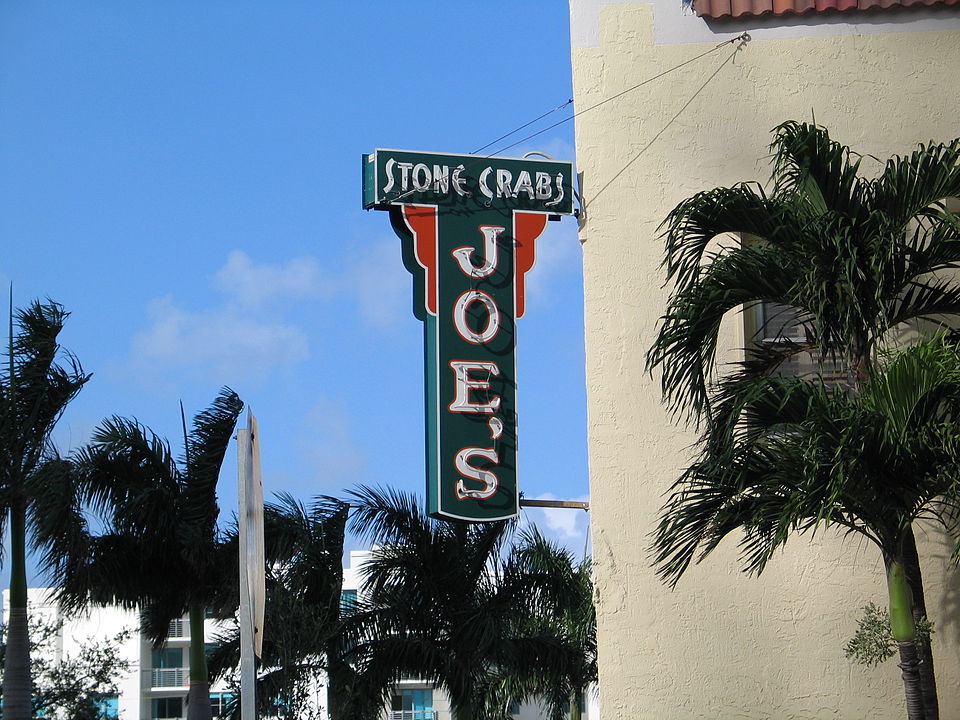 With such high value met by strong demand, and 99% of the U.S. domestic catch taken from Southern Florida waters, the Stone Crab harvest is one of the top five Florida fisheries. Generating around $30 million dollars annually, it is an important part of the state economy. Diners looking for the freshest crab should note that the Florida Stone Crab season (recreational and commercial) runs from October 15th through May 1st each year, when just over 2 million pounds of claws are taken in a carefully-managed fishery.
Florida Stone Crab is considered a sustainable seafood option, but climate change is bringing changes in water temperatures and acidity levels, challenges that impact the growth and survival of the crabs. Habitat destruction due to coastal development also poses a significant threat to the Stone Crab. The Florida Fish and Wildlife Conservation Commission and other organizations closely monitor crab populations and catch levels. Measures such as a shortened harvest season and the introduction of biodegradable traps that reduce overall impact on the environment and also feature escape rings that allow small crabs to exit are some of the safeguards emplaced to ensure the sustainability of this precious and tasty ocean resource.
The Nature of the Feast
Stone Crab claws should be cooked immediately after harvest on the boat or at dockside in order to prevent the meat from sticking to the shell. They are then either enjoyed immediately or frozen for shipment (if the claws are uncracked), and an online search will testify to the popularity of this specialty seafood by the number of Stone Crab suppliers ready to ship frozen claws by package express all over the United States.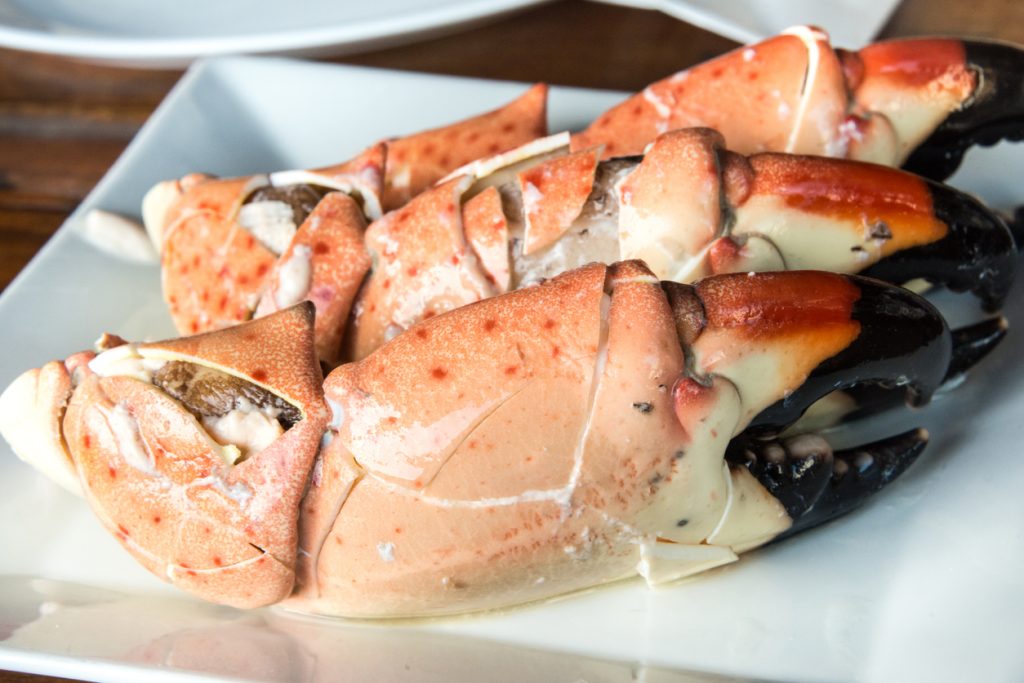 The claws are most often served in the shell, sometimes pre-cracked for convenience. A display of chilled claws on a bed of ice with a creamy mustard-mayonnaise dipping sauce on the side is a very popular presentation. The traditional chili sauce-horseradish cocktail sauce is also a good dip. Stone Crab is frequently eaten hot with drawn butter and a squeeze of lime juice for a sweet lobster-like taste. The claws can be marinated then roasted or broiled, and cracked claws or extracted meat are sometimes used in seafood stews or creamy pasta sauces. However, the best approach is to enjoy the full, ocean-fresh flavor and mild sea-breeze aroma resulting from simple steam preparation.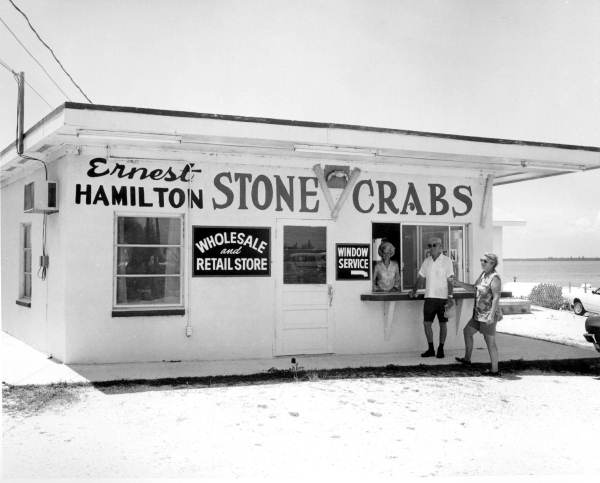 You will find Stone Crab claws on restaurant menus in Key West and throughout the Keys, and they are a classic raw bar staple. Stone Crab has been a Florida specialty for over a century, and is a real local Key West seafood treat. Healthy, very low-fat, high-protein, and amazingly delicious, Stone Crab once tasted is not easily forgotten. You will definitely want to put a few claws on your Key West foodie must-eat list.
Enjoy Fresh Seafood and Support Keys Communities
At Martin's Steak & Lobster, we are all about supporting our Key West community. So here is a local pro tip: If you are having difficulty choosing among the many excellent Key West seafood specialties available, why not try a variety all in one day?
Every January on Martin Luther King weekend, the Florida Keys Commercial Fishermen's Association puts on the annual Florida Keys Seafood Festival in Bayview Park on the corner of Truman Avenue and Jose Marti Drive in Key West. The delicacies on offer are very reasonably priced, and served in styles that highlight freshness and simplicity of preparation while letting the amazing flavors of some of America's best seafood shine.
Past Festival menus featured real Bahamian style Conch Fritters, Conch Chowder, and Conch Ceviche, peel & eat Key West Pink Shrimp with cocktail sauce, Stone Crab Claws with key lime mustard sauce, Spiny Lobster grilled or in a creamy bisque, fried fish in a basket or with slaw and black beans & rice, fried clam baskets, and smoked fish dip with crackers (great with beer). Enjoying these treats al fresco, washing them down with beer, wine, rumaritas, rum runners, water, soda, or iced coffee, and finishing up with Estella's Famous Flan or Natilla, some Key Lime Pie, or another homemade treat—casual dining does not get much better than this.
The Festival offers the opportunity to try several classic Key West seafood dishes at great prices while supporting a number of good causes including environmental programs, scholarships and more. It's also a family-friendly good time with kids' activities, arts and crafts, cool souvenirs, music and entertainment, and adult beverages. As a bonus, you will learn a lot about local marine life and the Florida Keys seafood industry. If you are a diner who loves to know where your food comes from, the Key West Florida Keys Seafood Festival is certainly a must-do.
Welcome to Martin's Key West
Now that you have the inside scoop on Key West seafood specialties, drop by Martin's Steak & Lobster in Key West and try some Key West fine-dining versions of the old fish shack staples. Black Grouper meuniere, sautéed Yellowtail with a lemon-caper butter sauce, Lobster Caribe, and a tasty tapas plate starring grilled shrimp with a spicy mango sauce are some of the menu standards that will introduce you to Key West seafood at its very best. Welcome to Martins!